American Assets Trust, Inc ("AAT") is a dedicated steward of our community and our environment. Together with our community partners, we have developed and incorporated into our business practices innovative programs to promote environmental sustainability and social responsibility.
Social Responsibility
We firmly believe that the success of American Asset Trust, Inc. ("AAT") is directly related to the success and health of our community. Through partnerships with non-profit organizations, charitable and financial contributions, in-kind donations, and volunteer efforts, we strive to make a positive impact on the individuals and businesses within our communities.
Partnering with the local chapters of national non-profit organizations, we have contributed to the development of community growth, support, and philanthropy at our commercial office, multi-family housing and retail shopping centers. Our shopping centers provide family-friendly venues for the local community to organize events that support charitable awareness. In addition to national organizations, we work with local communities and neighboring schools to help those closest to home.
Organizations
Organizations we have had the honor and privilege of working with are:
National Organizations:
American Heart Association
American Cancer Society
Susan G. Komen for the Cure
Toys For Tots Foundation
Muscular Dystrophy Association
American Red Cross
Girl Scouts of America
Boy Scouts of America
Boys & Girls Club
Make-A-Wish Foundation
Leukemia and Lymphoma Society
Salvation Army
Easter Seals
Food Banks
Institute of Real Estate Management (IREM)
International Facility Management Association (IFMA)
Building Owners and Managers Association (BOMA)
United States Green Building Council (USGBC)
Local/Area Organizations:
California
Rady Children's Hospital
San Diego Center for Children
San Diego Blood Bank
Promises2Kids
Restorative Justice Program
Animal Friends Rescue Project
Community Hospital of Monterey Peninsula
Transportation Municipal Authority of San Francisco
San Francisco Historical Building Committee
SF Food Bank
San Francisco Chamber of Commerce
San Francisco Market Street Association
Texas
Family Service Association of San Antonio, Inc.
San Antonio Humane Society and SNIPSA
San Antonio Public Library
South Texas Blood & Tissue Center
Hawaii
Waikele Community Association
Waikele Elementary School
Blood Bank of Hawaii
Oregon
Lloyd EcoDistrict
Go Lloyd Transportation Management
The Street Trust
Portland Street Car
Right-To-Dream-Too
Sunshine Division
Portland Rescue Mission
Holladay Park Partnership
Stop Oregon Litter and Vandalism
Donations
Beginning in January 2014, American Assets Trust, Inc. partnered with a local San Diego radio station, and launched the Tribute to Teachers program honoring local school educators for their outstanding work inside and outside of the classroom. Throughout the school year, the program spotlights a San Diego community and encourages listeners to nominate their favorite teacher or coach who has made a life-long impression on the area's students. The randomly selected teacher or coach from amongst the nominees is honored for their exceptional work and presented with an engraved plaque in their classroom by an American Assets Trust, Inc.'s representative and a radio personality.
Each year, AAT encourages tenants and guest at all of our properties, as well as our employees, to donate teddy bears or stuffed animals to the annual Holiday Teddy Bear Drive benefiting children in San Diego. For the past few years, the San Diego Center for Children were the recipients of the Holiday Teddy Bear Drive. To date, over 7,750 bears have found new homes with the children of various children organizations!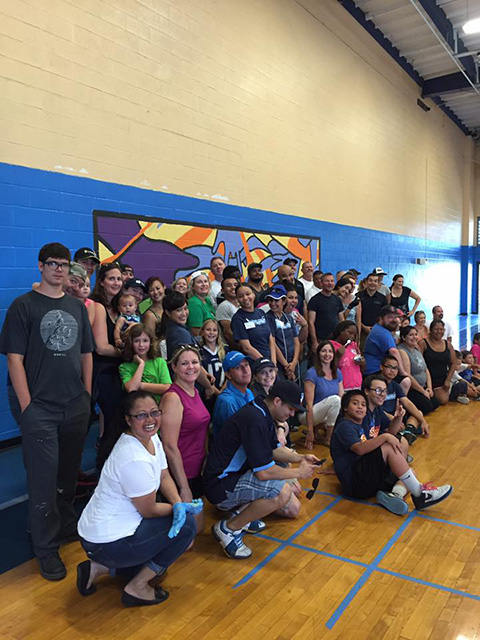 We support local charities involved with providing aid to those in need of a helping hand. We organize the collection of food and basic necessities and delivered them to local families in need. In partnership with BOMA San Diego, and in support of Promises2Kids, we participate in annual backpack drives, providing essential school supplies for local, at-risk, foster children. In 2016, 30 full backpacks or lunch bags were collected and in 2017, over 100! Additionally, we partnered with Promises2Kids for their annual holiday gift drives by providing much needed space to collect, warehouse and distribute toy donations during the holidays to families and children in need. AAT employees also assist in the physical and financial renovation and refresh of interiors and exteriors of various local charitable organizations, including the Boys & Girls Club. They also volunteer with IREM's and BOMA's San Diego Chapters for community service projects and educational and networking events.
We participate in community awareness programs. Many of our properties sponsor blood drives for the much needed local blood banks. Our tenants and employees have graciously participated directly and donate blood at the event. During the Breast Cancer Awareness Month, Go Red for Women and American Cancer Awareness Month, we light up some of our properties in pink, red and purple respectively, garnering local and media attention.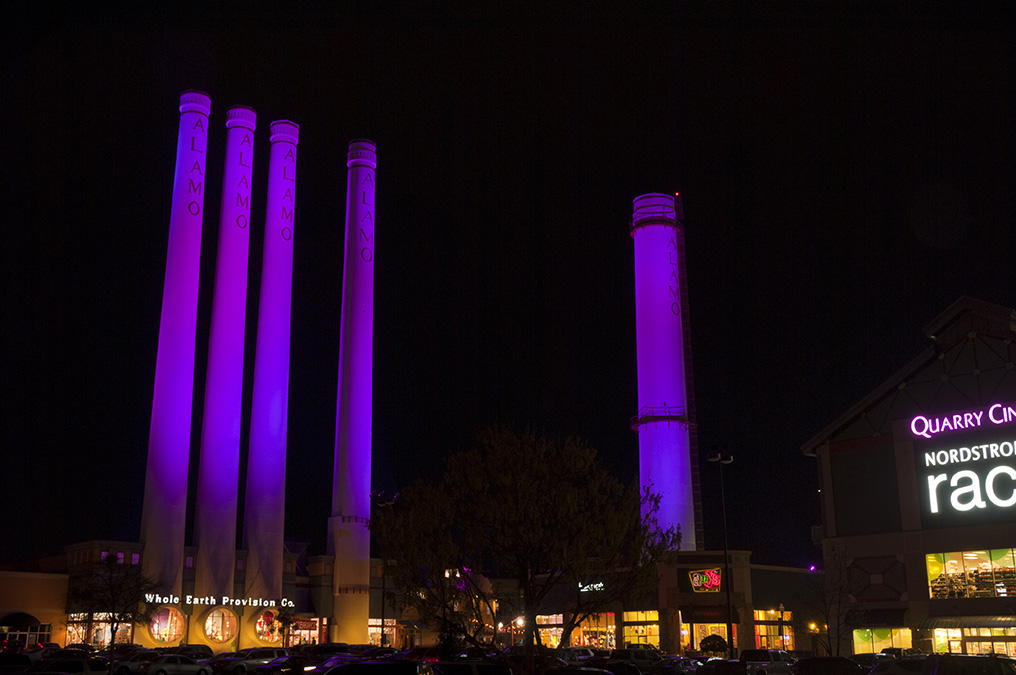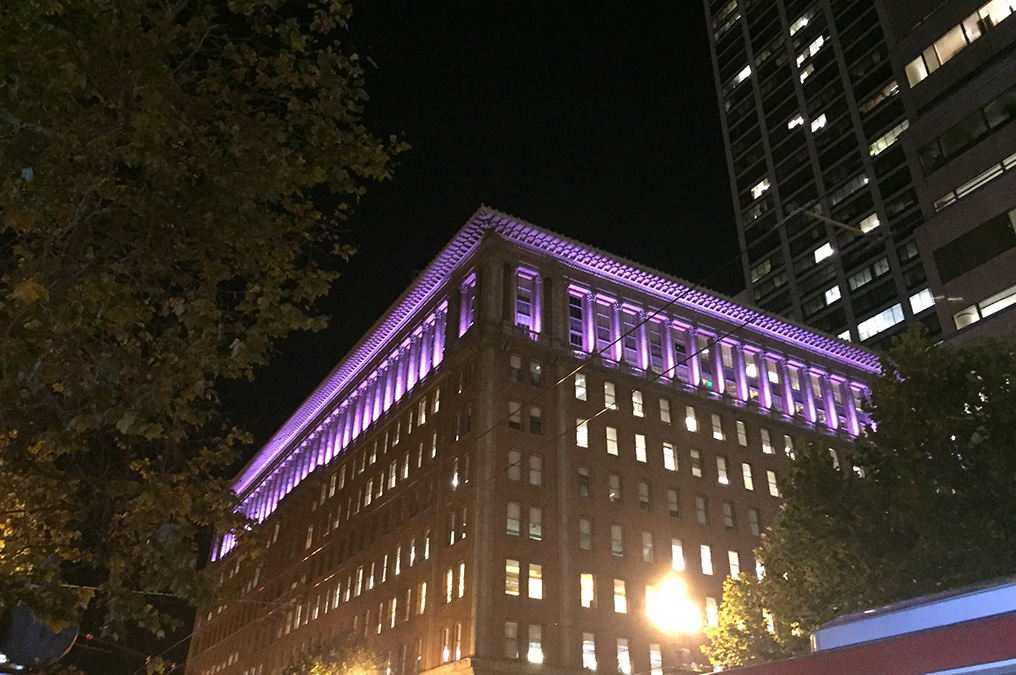 Transportation
We promote healthy lifestyles. We encourage tenants to use alternative modes of transportation, including riding their bicycles. At our Hassalo on Eighth, we celebrate Portland's biking culture with the installation of over 900 bike stalls, including a bike valet! In addition to reducing carbon emissions, this builds a community of bicycle riders that continue to forego their automobile for the healthier bicycle.
In conjunction with the promotion of healthy lifestyles, and as part of our commitment to reduce overall vehicle miles traveled, make more efficient use of our existing roadways and maximizing the movement of people and goods, in San Diego, we have implemented a comprehensive and robust Transportation Management Plan that encourages tenants and employees to utilize the various public transportation options available, including Park & Ride, iCommute, Coaster/Amtrak, MTS/NCTD bus options and Go by Bike services. For the convenience of our Lloyd District Portfolio and Hassalo on Eighth community, we installed Transit Trackers to display the transit schedules of various transit lines that pass through the property.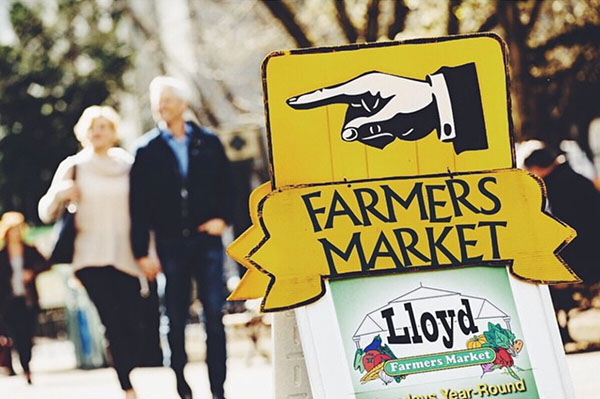 In addition to public transportation to promote healthy community, Hassalo on Eighth hosts Farmer's Market for the local residents to purchase fresh and locally grown food. The Farmer's Market provides a platform for farmers to sell and educate on sustainably grown food, while providing an outlet where locals can find and purchase their products. Each share in the success of the other in a mutually beneficial relationship that has become a model for sustainability.
AAT also recognizes our responsibility to promote animal welfare and proudly supports local organizations set up for public animal adoptions and to enforce laws preventing animal neglect and cruelty.
We look forward to continuing to strengthen our relationships within our community to promote social programs and causes.